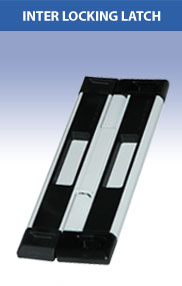 Interlocking Latch can join 2 sliding doors together to interlock each with the other. This optional accessory can be used with the double bolt lock on a pair of glass sliding doors that meet in the center to firmly lock them together. It can also be used on any flat surface to lock that surface into place with the double bolt lock.

Now available in White, Silver & Black
Mounting Dimensions: Width: 1 1/8" x Height: 7 15/16"