LYNX Touch 7000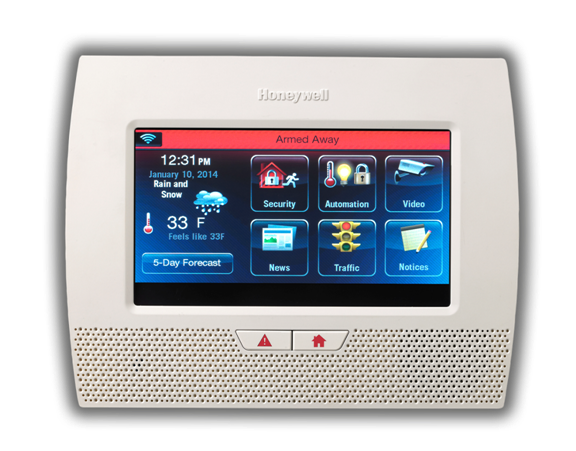 LYNX Touch 7000
Honeywell's LYNX Touch 7000 all-in-one business and home alarm system was just revealed at the Vegas 2014 ISC West Security Show on April 2, 2014.
Our President Paul Seidman personally experienced first hand the new features of the Honeywell Industry leading security manufacture latest product Line up for 2014.
The Honeywell LYNX Touch 7000 is amongst the newest security systems unveiled by Honeywell in Vegas on April 2, 2014. Adding to the reliable Honywell security systems, the well-known LYNX 5100. The LYNX Touch 7000 features a bright 7" full-color touch screen with graphic icons and intuitive prompts for easy operation. It features on-screen video, Z-Wave automation capabilities, advanced alarm communications, garage door notifications of when your doors are open and full control so you are able to close them. You can display up to 4 Video cameras individually or in a quad mode configuration on the 7" touch screen display showing 16.7 Million colours at 800 X 480 Resolution.
The LYNX Touch 7000 has the ability to be monitored over WIFI or GSM and completely eliminates the use of standard POTS Line which are standard telephone communication and truly lack secured transmission in the event of an intrusion and are no longer considered a way to provide reliable security services in Toronto.
The LYNX Touch 7000 now offers Two-way voice via Wi-Fi module offering the lowest cost alarm communications yet for our customers. Honeywell's LYNX Connect app's available from iTunes or Google play provides our customers with the ability to use an IOS or Android devices to view video and operate the alarm system from anywhere in the world via internet access.
The LYNX Touch 7000 proudly offers dual pathways for additional high end homes that want backup security typically not available from all security providers. Designed totally with the end-user in mind the LYNX 7000 is simple to program and configure making the Honeywell LYNX Touch 7000 the best security system ever made by Honeywell. It is capable of monitoring 80 programmable wireless intrusion zones plus 24 dedicated keyfob zones, making this a security system capable of doing almost anything in your home.
The unit is a full-featured system with Honeywell's legacy in mind, continuing the company's commitment to Z-Wave technology. With the simple addition of the LYNX Touch 7000 Z-wave module, this unit can easily be made the brains of your home, controlling both your security system and satisfying your home automation needs and making your home safe and fun to be in. Let us configure your LYNX Touch so you can control your complete security system from anywhere in the world.
It features on-screen video, Z-Wave automation capacities, including advance alarm communications, garage door notification and control including tornado alerts for U.S.. and Canadian residents. The New LYNX Touch 7000 is flash upgrade able so you never left with security that can't move forward when you need to upgrade the software..

Whether using the new LYNX Touch 7000 as backup or primary communications, the advanced 4G radio improves longevity and maximizes your security for your home and business around the clock.
Honeywell LYNX Connect app provides consumers with the ability to use an IOS or Android device to view video and operate the system on the premise of their home
or business.
The Z-Wave connectivity module lets our installers integrate security, lighting, thermostats and more for local and remote control. With Honeywell Total Connect remote services our customers can control security, thermostats, lighting, locks, receive real time alerts and more with most Smartphones, tablets and computers from anywhere in the world.
LYNX Touch 7000 Features:
7" vivid color graphic touch screen with 800 X 480 pixels, 16.7 million colors
Intuitive easy to use touch screen interface
Two dedicated keys for everyday functions
Menu driven navigation
Built in 85 dB sounder with voice siren
Long range radio / Two-way voice with no POTS line interface module
Menu driven navigation
Easy to understand icons
Integrate Video with up to 4 camera displayed individually or in a quad configuration on the touch screen using Honeywell Total Connect camera with any Honeywell (iPCAM-W12, iPcam-WO, iPCAM-PT, ACU)
Wi-Fi support, alarm communications to AlarmNet and lifestyle messaging via the user's internet connection
Integrated Z-Wave provides control of all Z-wave devices
Weather available in Fahrenheit or Celsius with one day or five day forecasts via Push / Pull content through Honeywell Total Connect
Advanced protection Logic technology when activated the alarm panel can report even if the system is tampered with
during the entry and communications delay times. No ability to smash the panel to interrupt detection this may be possible on other all in one systems
Voice announcement of system and zone status
10 selectable chime tones
Automatic stay arming
Vice chime by zone
Family message center for user recorded messages
48 user codes, (installer, Master, Plus 46 secondary, including Duress and guest codes
Three panic functions
Wall or desk mounting
Viewable event log stores up to 256 events
RF jam detection
Case Tamper
Exit error feature detects difference between an actual alarm and exit alarm caused by leaving a door open after the exit delay expires
80 Wireless zones with 1 hardwire
Supports wireless bidirectional keypads
Garage Door Function, with up to Four garage doors per system with auto secure feature if left open and unique garage door icon display
View and monitor garage door status
Auto-secure garage door feature
GSM and IP communicators
24-Hour backup battery option with rechargeable nickel-metal hydride battery pack rated at 7.Vdc
Two-way voice communications over POTS, IP / Wi-Fi or GSM
LYNX Touch 7000 Integrated Z-Wave Support
Up to four thermostats (HVAC system or battery powered) with 1 F and 0.5 set points
Water valves
Lighting
Sirens
Six door locks with Jammed locks reported to Honeywell Total Connect Remote Services
40 devices (lights, switches and lamp modules
20 scenes
20 rules event based actions
Sunrise / Sunset lighting control
Randomized lighting control
LYNX Touch 7000 Wi-Fi
IEEE 802.11 B / G / N radio
Supports alarm reporting
Supports two-way voice
LYNX Connect app supports Mobile IOS & Android devices
Listings
UL-985, UL 1023, UL 1635
CAN/ULC-S545
CAN/ULC Subject-C1023
ANSI/SIA CP-01-2010
Pre-Lock Security Services can install wired, wireless or hybrid alarms systems mixing physical wires where possible with high tech wireless security equipment by Honeywell. We can even take over or upgrade your existing alarm system to meet the ever changing needs of your family and home. Protecting your self from burglary has never been easier before. Let us configure your alarm system to include door sensors, window sensors, motion detectors, glass break sensors and more. Add monitored detectors for smoke, carbon monoxide, flood, sump pump overflow and temperature changes.
For more information call us at (416) 773-5625
Toll Free 1 (877) 773-5625
or email us at sales@pre-lock.com
Pre-Lock Security is an Authorized Honywell Security Dealer In Toronto
Toll Free
1-877-773-5625
Local Number
416-773-5625
Pre-Lock Security
Services Inc.
800 Petrolia
Road Unit 4
Toronto, Ontario
M3J 3K4
Canada
E-mail:
sales@pre-lock.com
We Accept: