Alarm Services » Commercial Alarms » Intercom Systems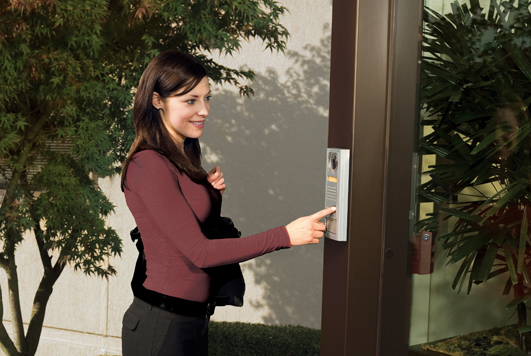 When it comes to designing a functional and effective communication or security system for any commercial applications, Aiphone is the number one choice. Whether looking to enhance an existing Intercom system or seeking a solution to a problem that has just creeped up, Aiphone's extensive range of products and design options will help you achieve your security goals.
Protect your staff by giving them the advantage to safely confirm the identity of visitors and vendors before granting access to your business. By using Aiphone products with crisp audio and clear, up-close video images, employees and visitors in your building can see and hear who is requesting entry. Unlock the door without getting up! Aiphone provides commercial security products that are unrivaled in design simplicity, technical excellence, and reliability. Featuring intercoms with door release, sophisticated video entry security, and complex microprocessor-based systems, Aiphone has over 30 different systems to create the perfect communications application for any commercial application.
Control who enters secured rooms and floors of a building. Aiphone intercoms with built-in card access readers and access control keypads give those with proper credentials a convenient way to gain access. Allow entrance to individuals without proper credentials with the simple push of a button
Call 1-877 PRE-LOCK (773-5625) or visit our retail showroom at 800 Petrolia Road Unit 1, Toronto M3J 3K4
Our team is always ready to customize a intercom system made specially for your business.