Locksmith Products » Commercial Locksmith » Automatic Door Openers



DORMA Automatics providing access to the world!!!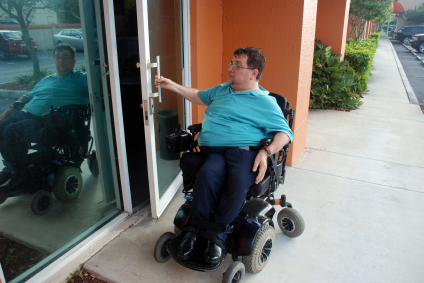 The development of automatic door openers are a real benefit for people that need special assistance in getting into your bulding without having to open the door with any physical effort. Pre-Lock has a special products with a focus on access control and accessibility for the disabled or anyone wishing to enter a premise without having to pull or push a door open. Our door operator contains many unique features not available in most competitive products. The result has been an operation unit that is simple to install, is uncommonly versatile in its applications, is virtually maintenance free, and is durable: It is rated at four cycles per minute and has been tested beyond 1 million cycles of continuous duty.
The system is controlled by a microprocessor programmed with proprietary algorithms designed to provide unique safety and function features.
Let us specify a unit for your building which takes into account the kind of traffic volume your facility will need for years of reliable operation. We can retrofit to any existing door and provide you with a clean installation with no damage to your premise.
Pre-Lock Security Services is trade certified by the American Association of Automatic Door Manufactures (AAADM) for the certified Installation of full energy and low energy door operators and accredited in providing and maintaing most types of automatic doors and barrier free operators systems. As well as having our installers certifed inspectors you can count on our technical team of professionals to insure your customers, guests receive safe entry into your building by trained profesionals.
Our product line includes all Dorma automatic openers products for barrier free operations used in commercial properties, governmental facilities, private companies and residential and commerical condominiums throughout Toronto and the Greater Toronto Area.
We also specialize in electronic access control including magnetic locks, electronic strikes, panic hardware and all related locksmith services that allow our team at Pre-lock to provide you with a one stop solution.\
Call us today at (416) 773-5625
Email us at sales@pre-lock.com