Alarm Services » Security Lighting » Honeywell Light Timer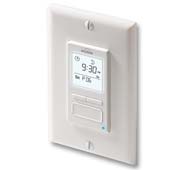 TIMER LIGHTS UP FOR EASY VIEW
With Large Backlit Display......
LOOKS GREAT AT NIGHT AND WORKS JUST LIKE A NIGHT LIGHT!!
Solar timetable can be used simultaneously with manual programs or automatic
sunset / sunrise activation
GPS latitude and longitude Settings are available for all regions for Accurate Satellite Settings
For Sunrise / Sunset Automatic Activations....
Do-it-yourself installation and both the flexibility of 7 day programming and the convenienceof automatic sunset/sunrise activation. Professional installation also available by licensed contractor. Programs are protected against a power failure by a pre-installed battery in the factory. Additional features include an LCD that shows the time, day and load status.
The Aube 7-Day, 40-500W Timer is also available in white. Turn your lights on when it gets dark out with the 500-watt Aube Solar Time Switch or 1800-watt Aube Solar Time Switch, which use your city's coordinates to determine the sunset and sunrise each day, adjusting automatically as the year passes.
SPECIFICATIONS

PROGRAMMING
7-day programming, up to 14 events! Solar timetable can be used simultaneously with daily events*
OPERATING MODES
Manual (conventional on/off switch)
Automatic
Random Security Mode
CONNECTION
Single pole (2-wire) or multi switch (3-way)
DIMENSIONS (H • W • D)
68 × 43 × 43 mm / 2.7 × 1.7 × 1.7 inches
Easy intuitive 3 Buttons interface
No doors to open
Sleek design mounts flush with Decora wall plate

FEATURES

Sleek design mounts flush with Decora wall plate
Works with incandescent, halogen and fluorescent lighting (compatible with electronic ballasts)
Large white backlit display with a night light mode option for easy reading in dark areas
Confirmation LED for at-a-glance load status (on or off)
Random mode activates lights randomly to simulate a presence when away from home great light security
Easy intuitive 3-button interface – no door to open
Automatic daylight savings – no need to reprogram ever.
500 W Max / 40 W Min
Optional 3 Wire / 1800 W Max Also Available
Security Tip
Let us assess your outdoor lighting needs and consider if it effectively lights up potential entry
points to your residence, garage, or shed. Motion lights can be an effective deterrent but
ensure they are installed properly so they can not be tampered with and become useless
in helping you. We recommend timers for your indoor lighting as well, so lights are not left
on during the day when you are away, and give the home a random lived in look at night!
Don't come home to a dark ever again. Protect your house by giving your home a lived in look even when you are away with the computerised random program schedule. . Program your lights to turn on automatically at specific times with the Aube 7-Day, 40-500W Timer, an attractive light switch that will replace any standard Decora-style switch. The backlit timer switch can control incandescent, halogen or fluorescent lighting. Easily record up to seven separate on and off sequences, which can be programmed daily or weekly. Need to turn on the lights on or off quickly late at night? No problem: The Aube 7-Day, 40-500W Timer offers a manual override, which enables the load to be turned on and off without affecting the programming by a push of a button. A Decora-style wall plate is sold separately or can be used with any existing Decora plate.

Works with incandescent, halogen, fluorescent lighting & compatible with electronic ballast

CSA / UL CERTIFICATION


3 Year Warranty

Now In Stock At our Showroom at 800 Petrolia Road
Order Your Electronic Timer T1070-3W Today!!! (416) 773-5625