Locksmith Products » Physical Security Products » Door NightLock


Double Door NightLock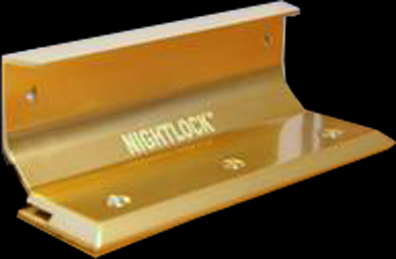 Our NightLock Door Reinforcement door guard provides REAL security that works before intruders can enter, saving you time money......and possibly much more.
The most important thing we know about security is if they get in you don't have it. In order to to achieve
"Real Security Under Lock & Key" you must reinforce the three weakest points of the door area. The jamb,
the hinges, and the locks. If you don't reinforce all three areas the door can still be kicked in.

The NightLock is a key component of our security solution which we mostly suggest for homes with double door entry. Most intrusions involve
kicking in a door to provide access for the bad guy. Our door NightLock will keep your door closed and the bad guy on the outside.

The NightLock screws into the floor and helps prevent the door from opening. The Nightlock uses the strength of the floor, as
the floor can withstand tremendous force. Anchored securely to the floor this beautiful door lock can add security to your entry door
by barricading entry.

The NightLock is an effective security door brace security system when you are home with your family which is truly the most important time to protect your home. As it can only be engaged from the inside
of your home your level of security is reduced when you need to leave your house.
The installation of our NightLock product will provide you a level of security at night that we have not been able to provide with other products currently available.
If you truly want to increase your forced entry protection when you are also away, we would suggest engaging the product on the front door and exit your home
from the garage which if locked by a good garage electronic door will increase your exposure to attack from the door.
The NightLock comes in a variety of colors including Brass, Satin Nickel & Oil Rub Bronze.

Let us show you how easy we can make your front door stand up for you when you need it most.
Call us today at (416) 773-5625