Locksmith Products » Residential Locksmith » Medeco Locks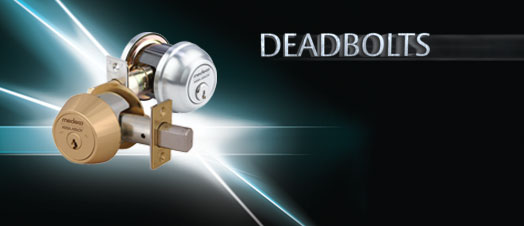 HIGH SECURITY PRODUCTS THAT MAKE A BIG DIFFERENCE...
Many people think that thieves are very dumb. However, the truth is that many thieves are very calculated, strategic and organized criminals.
They watch homes and businesses before they make their move. They record patterns. They often know when and how
to strike, what to steal, and where to slip away without being seen, all in a matter of minutes.

A Medeco Maxum dead bolt installed by Pre-Lock Security Services is going to disrupt the plan of attack. It presents the unexpected typical success they get from homes and business that are equipped with ordinary standard locks.
Medeco Locks fight back and protect your property. Medeco products are designed with your security in mind. The product is pick and drill resistance to start with, and block the things most thieves do to gain entry into your home.
When a thief sees your home is equipped with a Medeco High Security Deadbolt on your exterior doors, they will most likely decide it isn't worth the risk and choose a less equipped target.
Medeco has spent more than a quarter century studying the ways thieves compromise locks. They found that
their biggest enemy is time - or lack of it. thieves likelihood of getting caught increases exponentially with every
minute they take to get into a home or business. That's why Medeco products are designed every inch of the way
with Maxum specific features that resist the things thieves do to gain entry to your home. So when thieves see a
Maxum Medeco deadbolt on a door, they know it's not worth the risk.
Medeco's patented key control systems make it virtually impossible for someone to get a copy of your keys without your written permission. This low-cost solution protects against a potential liability for your facility.
Medeco has pioneered extremely large Master Key security solution through their exclusive use of angled cuts on their keys, and slider combination. With millions of possible security combinations, Medeco can accommodate even the largest installations and provide a security solution that truly no other High Security Provider can beat.
Check out our complete Medeco Product line up now and see how easy it is to have "Real Security Under Lock & Key"

Call us at (416) 773-5625 or Visit our Toronto Showroom