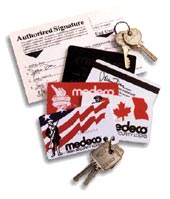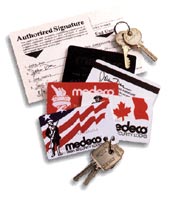 From our personal experience as Medeco security expert, we understand that burglars biggest enemy and fear is time and not the crime. The chances of getting caught rise substantially with each extra minute they take to break into a home.
So we recommend Medeco High Security Products which all have specific features that resist the things thieves do to gain entry into your home. And our Medeco high security drop bolts and padlocks also provide protection where you are most vulnerable. So when thieves see Medeco® locks on your home, they may decide it isn't worth the risk and go away!


Tougher than the Toughest Standards

Our Maxum® Medeco deadbolt was tested against the standards set for auxiliary locks by the American National Standards Institute (ANSI), based on such criteria as ability to withstand kicking, prying, wrenching, hammering, sawing and drilling attacks. The Medeco Maxum deadbolt not only exceeded the Grade 1 (highest level) standard in every case, but it exceeded it by as much as 150% in some tests!

Pre-Lock Security understands why burglars don't like High Security products like Medeco. What we don't understand is why so many homes don't have high security products on all exterior doors. Most consumers seem to research everything they buy when it comes to Televisions, home theater products etc., but seem to drop the ball on something that needs to protect there investment
For a lock this good, don't go to the corner store. Go to a security professional who's got the Medeco seal on the door. That's the only standard that really counts!

Only Medeco Security Professionals are Authorized to Copy Your Keys.

It's frightening how easy it is for someone to get a copy of your key. You need keys that you can be confident won't turn up in the wrong hands.
Medeco's patented Medeco3 system means it's virtually impossible for someone to get a copy of your keys without your permission. Only Medeco security professionals are authorized to copy your key, and they can only do so with your consent.
Trust Pre-Lock Security to install Medeco High Security on all your exterior doors. Key control is our business. We use products that are the industry standard!
Safety Tip: Conduct a security inspection on your home today. Contact your local crime prevention office or a professional locksmith to conduct the survey for you.
Pre-Lock offers free security inspections on your home. What are you waiting for?
Call us today (416) 773-5625.