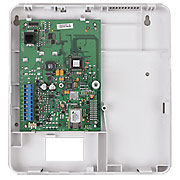 Honeywell's 7847i Series is the next generation family of IP Communicators designed to meet today's demand for viable communication alternatives.
The 7847i delivers highly secure, reliable, Internet communication of alarm data while the 7847i-E is suitable for enterprise private network applications using local LAN or point to point connections.
Internet signals are delivered to Honeywell's AlarmNet Network Control Center, which routes the information to the appropriate central station. The state of the art AlarmNet Network Control Center is fully redundant and monitored 24/7. AlarmNet has the ability to route messages using the AlarmNet-A, AlarmNet-M, AlarmNet-i and 800 PLUS services, providing true redundancy and multi-path message delivery.
Features:
Secure IP Reporting
- Reports signals via Internet or Intranet (7847i-E only)
- Uses 256-bit Advanced Encryption Standard or optional 1,024 bit encryption with two-way authentication and no key exchange for maximum data protection.
Dialer Capture Ready
- Compatible with Dialer Capture Intelligence Device (non-ecp capable LYNX) or DCID-EXT (other control panels). Captures Contact ID messages from the panel's phone line and sends them to the central station via the IP communicator.
Universal Control Panel Compatibility
- Flexible modes of operation allow ECP full alarm reporting by Honeywell control panels, 4204 relay mode for Honeywell controls that do not support ECP alarm reporting and zone triggering for use with other control panels.
- LYNXR-I integration with 7847i-L
Full Contact ID or ADEMCO High Speed Reporting
- ECP mode with compatible Honeywell control panels support full Contact ID reporting. All other modes use ADEMCO High Speed reporting format.
Six Input Zones
- Each zone can be configured for +V, -V, or EOLR triggering. Each zone can be programmed for inverted operation, delayed reporting and restoral reporting. Zone 1 can distinguish between pulsed and steady inputs (7847i/7847i-E).
Tamper Protected Enclosure
- Built-in tamper sends a report when a tamper condition is detected and a restore when cleared.
Remote Services Capability*
- Control Honeywell control panels via Internet or mobile device and e-mail notification of system events. * Requires optional Honeywell Total Connect service
Network Friendly
- Installs behind firewalls without compromising network security— dynamic or static IP addressing
Ease of installation
- Easy CAT-5 10 BaseT connection to a hub or router-Quick connection to compatible Honeywell series control panels.
- Simple programming using a 7720P programmer, AlarmNet Direct website or via LYNXR-I (7847i-L).
Upload/Download
- With select Honeywell control panels. Requires Compass version 1.5.8.54a or higher.