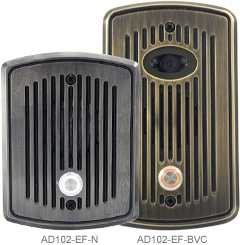 At the brain of every TeleDoorBell system is the C304CR main controller required with every TeleDoorBell installation. The controller is usually installed and integrated with your phone system conveniently tucked away in your basement which links your door stations to your existing phone system through its CA38A/RJ31X phone jack.

Inside the controller resides the logic and hardware to carry out the functions of a Logenx TeleDoorBell system including the much talked about call forwarding feature that can connect you no matter where you are…instantly…without your visitors ever knowing you may not be on site. Most burglaries begin at the front door of you home, yes the intruder will ring the door to see if anyone is home, what better reception is you being able to answer your door even when you are not home.
When coupled with the Page/Mute module our HIFI series is capable of sending mute commands to your home audio distribution system for incoming phone calls and/or visitors. It also gives you the ability to page through your home audio speakers with any corded or cordless phone.
Features
All Inclusive
Approvals
Self Contained
Easy to Install
Any Phone System
Order you Logenex Intercom System Today....
Call us at (416) 736-8383 Lets Talk!!!