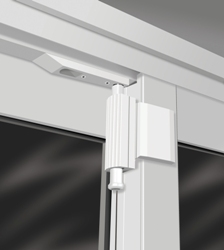 Patio Door Guardian Now Available In White
The Patio Door Guardian was designed to effectively secure and childproof sliding patio doors in Homes and balcony sliders in apartments/condos.

What are the three most common means of entering through a locked patio door?
If you said "Prying, lifting and breaking the glass", you're absolutely correct. Due to the light structure of most sliding patio doors and their locks, entry can be gained by simply applying pressure to the lock and strike area by prying with a large screwdriver or pry bar. This means of entry is fast, easy and in most cases so quiet it is almost undetectable.
The most popular remedy for this type of entry is the old broom handle in the track.While there's no doubt as to the effectiveness of this method for preventing a pried opening, it falls short in protecting the door against being lifted. Like prying, lifting is quick, simple and noiseless.
Patio Doors are manufactured with either the sliding door on the outside or on the inside. Those mounted outside are the most prone to prying and lifting and are the hardest to protect.
The Patio Door Guardian will not fit patio doors with the sliding door on the outside.