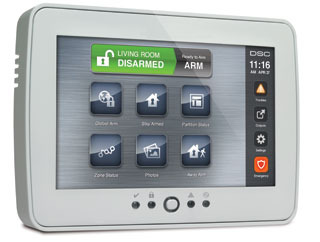 PowerSeries TouchScreen Security Interface PTK5507
The PowerSeries TouchScreen keypad delivers an easy interactive way to manage and control your security system at the touch of a finger. The TouchScreen keypad the nerve centre of the security system conbines the keypad functionality users and our installers have come to expect with an intuitive interface. Seamlessly integrated with sleek, contemporary and modern look is valued by our homeowners.
|
The PowerSeries TouchScreen keypad has been designed with the user and installer in mind. For the user, menu driven, intuitive screens make programming very easy to configure desired features and options. The PowerSeries TouchScreen keypad has been designed with the user at top of the list. Large clearly recognizable on-screen buttons and intuitive menu-driven screens faciliate easy use and programming. For example to access Fire, Auxillary, Panic (FAP) keys, users just press the EMERGENCY button of the frame which provides a quitck visual check on the security system.
7" full color display
Slim modern design (800x480 resolution)
Intuitive LED indication of security system status
Picture frame feature for single photo or a timed slideshow or default background screen
Easy update for pictures with SD card slot
Clock feature
Output control
Intuitive user interface
Customizable home screen and wallpaper
Menu user programming
Installer programming
Virtual keypad
SD card
Digital picture frame mode
Compatible with PC1864, PC1832, PC1616 control panels
Available in English, French and Spanish
Ask your sales person how easy it is to upgrade your
alarm system to the new PowerSeries
TouchScreen Security interface.
NOW IN STOCK CALL US TODAY (416) 773-5625
Security will never be the same......