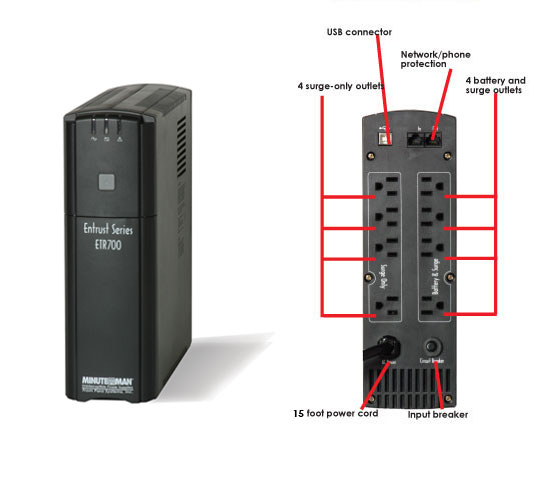 So you have invested in a high end PTZ camera system to learn that it does not work without electicity. Installation of a robust UPS backup system is mission critical in keeping your security up when everything else is down. Pre-Lock recomends the installation of our new Minuteman® 700VA line interactive UPS with 8 outlets to keep your security on when you need it most. The Minuteman brand has been synonymous with quality and reliablity and represent better value in terms of price vs. performance and reliablity. Pre-lock understands that security needs power, that we we recommend the installation or a UPS for all computers, servers, peripherals, voice and data communications systems and other mission -critical equpment that needs to be on even when everything else is not.
USB Communications – The Entrust Series has HID-compliant USB communications that is automatically recognized by all Windows software versions. No special drivers are required.
Buck/Boost Voltage Regulation – Offers a more stable AC source during surge and sag events without constant use of internal batteries.
Slim-line Profile – Provides users with the ability to install the Entrust Series in a variety of environments.
RoHS Compliant – Compliant with European Economic Unions directive on the reduction of hazardous substances (RoHS), in electronic equipment.
SentryPlus Software – SentryPlus auto-shutdown and monitoring software is included with every unit. No special downloads or coupons are required.
Larger Load Capacities – Minuteman has increased the capacities of the models in the Entrust line, allowing the units to support larger power requirements.
Features:

Properties:
Device type: Uninterruptible Power Supply
Input plug type: 5-15P
Input voltage: 120
Output voltage: 120
Number of fully protected outlets: 4 (5-15R)
Number of surge protected only outlets: 4 (5-15R)
Phone / modem (RJ-11) protection? Yes
Network (RJ-45) protection? Yes
No. of serial (DB-9) ports: 0
No. of dry contact ports: 0
USB port: Yes
Battery:
User replaceable battery? Yes
No. of internal batteries: 1
Replacement battery description: 12 Volt 7.2 Amp Hour
Replacement battery part no.: 37000007
Replacement battery suggested retail price: $38.00 USD (each)
Technical Attributes:
SNMP manageable? No
Power in Watts: 420
EMI/RFI filtering? Yes
Max. energy dissipation: 320 (Joules)
Protected equipment insurance value: $75000 USD (US and Canada Only)
Switchover time: 6 ms typical

Software:
*Operating system shutdown software included: Yes
Op. System(s) supported by SentryPlus software: Microsoft Windows XP/2000/2003/95/98/Me/NT4, Red Hat Linux, SuSE Linux, FreeBSD, and other Unix/Linux systems
Product Dimensions (in inches) :
Length: 3.43
Width/Depth: 10.91
Height: 10.80
Weight: 16.14 lbs.

Contact us today at (416) 773-5625